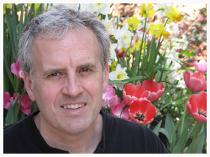 Throwing and stamping process.
My wheel thrown forms are marked with lines with a wood tool while still on the wheel to use as guide lines for the stamping process.
The stamping process can begin when the clay surface has lost it's wet sheen look and no longer sticks to the finger prints on your fingers. With the clay soft and pliable, it will take on the handmade stamps for the process. I prefer handmade stamps simply because no other potter will make the exact same stamp.
The pots are bisque fired, then wax resist to create a contrast between the glaze and the clay color.
After the pots are glazed and the remaining glaze droplets are cleaned from the clay surface, the pottery is then glazed fired.
.
.