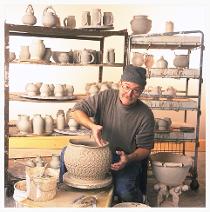 Charles Fach
A native of Galesburg, IL I earned a B.A. in Drawing & Design from U.C.L.A. and a M.A. in Ceramics from the University of Iowa and came to Galena in 1971 to make pottery. I have owned and operated Stone House Pottery & Gallery for the past forty years.
My pottery was mostly functional at first – casseroles, dishes and coffee mugs – but over time my artistic muse intervened and I began turning out porcelain, one-of-a-kind iridescent raku vessels and vases, molded bas-relief pieces, bronze figures and Escher inspired interlocking tiles.

Work is produced in my studio, The Artists' Annex. The building also has commercial rental space available. Free pottery demonstrations for the public are conducted on Saturdays 2 to 4 p.m. and on Sundays from 10 to noon at The Annex. A pottery showroom and art gallery is located on the first floor of the Stone House Pottery & Gallery building. Here area artists display and sell their creations to the public.