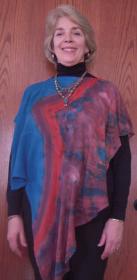 Upcoming art shows 2012:
Custer's Festival of the Arts
June 16 & 17, 2012
Evanston IL
Hopkins Art Festival
July 7 & 8, 2012
Hopkins MN
Naperville Woman's Club
July 14&15, 2012
Naperville IL
Galena Labor Day Weekend Festival 2012
September 1 &2, 2012
Galena IL
Celebrate Art! Celebrate Coffee!
September 15, 2012
Willmar, MN
Galena Country Fair
October 6&7, 2012
Galena IL
Carol Anderson Bell
Carol is a fiber artist, currently residing in Minnesota, originally from Chicago. Her artistic progression began with weaving. Coming from a Swedish ancestry she decided to study at the University of Stockholm her junior year. She was surrounded and inspired by the rich, vibrant colors of the Scandinavian palette. While in Sweden she learned to Weave and studied batik.


The "Sconcho" is an innovative fabric art form that Carol has conceptualized and named. The Sconcho is in the style of a poncho with the asymmetrical draping of a lovely scarf. She enjoys the search for the perfect texture, color, and drape of the fabric, often re-purposing the cloth.


Carol's Sconchos- designed for casual or formal wear are for sale in boutiques in Minnesota and at Chicago-area art festivals. Her website www.carolbeldesigns.com shows examples of her one-of-a-kind pieces and upcoming events.