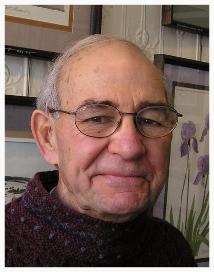 Carl Johnson
Carl Johnson Gallery
208 Perry Street
Galena, IL 61036
(815) 238-3248
cjart@galenalink.net
cjart.net
Store Hours:

Wednesday - Monday 10 am - 5 pm
Carl Johnson

Carl H Johnson Jr., 82 was born in Joliet, IL and grew up on the far South side of Chicago. He received his BFA in Design from the University of Illinois/Campaign in 1957. He worked as a Graphic Designer until 1970 when he moved to Galena, IL with his family to become a full-time "on location" watercolor painter. In 1972, he opened Carl Johnson's Gallery on Galena's Main Street. He wrote and illustrated The building of Galena: An Architectural Legacy, in 1972 which includes 15 watercolor illustrations. Carl led watercolor classes for the U of IL School of Architecture in Versailles, France from 1985 to 2012. His paintings focus is the architecture of Galena and Chicago.
As a location painter, Carl now travels broadly, continuously being inspired by the beauty and diversity of our world. His subject matter has expanded through the years to include sweeps of landscape and single blossoms, as well as city landscapes new and old.
Now his paintings focus on the architecture of Galena and Chicago. Semi-retired at 82, he and his wife, Marilyn, continue to operate the Gallery at 202 S Main Street in Galena. Carl enjoys doing architectural commissions. From their condo on East Randolph in Chicago, they are able to enjoy the cultural advantages of downtown living. It also affords Carl the opportunity to focus on the architecture of the city. His paintings can be viewed on his website - www.cjart.net.